If you visit my blog once in a while then you have probably noticed this "Praying for Bennett" button on my sidebar.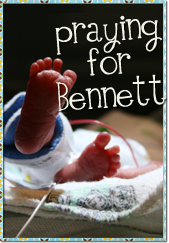 Baby Bennett has been in the NICU for over 200 days! Thats more than 142 days longer than Avery was there, which seemed like forever to us. Bennett was born half Averys birth size. He weighed 1 lb 1 ounce, I think. He has had many troubles from day one but his parents love the Lord and know he is a gift to them from Him. They have asked for prayers for him and I have asked along with them.
Today is a most wonderful day for this sweet family. Baby Bennett was strapped into his car seat and got to take a precious miraculous ride home with his mommy and daddy.
Praise be to our God!
I remember very clearly the day we brought Avery home 58 days after her little 2 pound self was born. What a glorious, fantastic, blessed, scary, wonderful, tearful, amazing day that was.
So those of you who prayed with me for Bennett please join me in Thanking God for this day for him and his family. Even if you didnt know of Bennett, you can still join me in Thanks and Praise to God who took such great care of little Bennett and brought him to this day.
THANK YOU JESUS!